RESOURCES: Teachers' Domain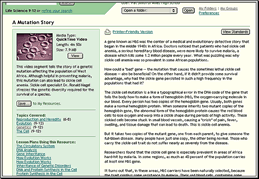 It's so frustrating to come across a resource where the designers have spent a lot of time and thought on content and organization and not enough time on usability.
Teacher's Domain, which presents a digital library of multimedia resources, standards, and lesson plans for K-12 on a small range of topics in life science, physical science, engineering, and the civil rights movement, is a good example. I was interested enough by the tour (no registration required) to check it out further but was soon disappointed.
While the library resources themselves are useful and well organized, the registration and login process can be frustrating, and the process of creating resource folders and sharing them with students and colleagues is unnecessarily complex. Navigation through these folders and groups is not very intuitive, and the "help" function is something less than helpful. To make matters worse, the server is sluggish and tends to serve up lots of error pages.
While this might be a useful resource for those who want to organize materials for themselves for classroom use, I wouldn't suggest sending students to this site for independent online work.
(link via Educational Technology)
Posted by Joanne Tzanis at September 29, 2004 12:15 PM