COMMUNITIES: Blogging to Performance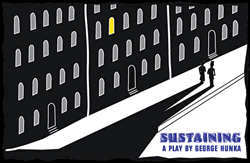 While I've been struggling just to start up some basic collaborative projects with past and current students, my husband George is, as usual, way ahead of me.
George and his fellow theater and music bloggers have been building a vital and articulate arts community where they not only blog their experiences as writers, actors, directors, and performers, but also share drafts of works in progress, engage in cross-arts discussion and debate, get together and attend one another's performances (when time and geography permit), and now even collaborate on performance.
George and director Isaac Butler, of the arts and politics blog Parabasis, are about to stage a workshop production of George's new play Sustaining. George has been regularly blogging both the writing and rehearsal process on his arts and culture blog Superfluities, and Isaac has posted his take on the challenges of directing this production - and workshops in general - on his own blog.
If you're in the New York area, you can see the result for yourself this weekend:
Sustaining
Manhattantheatresource
177 MacDougal Street, New York, NY 10011
Sunday-Tuesday, January 16-18, 2005, at 8:00pm
For reservations call (212) 501-4751
All tickets $12.00

Posted by Joanne Tzanis at
01:36 PM
|
Comments (0)