TECHNOLOGIES: Hazy Crazy Days of Summer
Summer semesters are always the hardest for adult learners (not to mention their facilitators). .. Any class stretching over two or more months during the summer seems to last an eternity for working adults, who are often dealing with out-of-school kids, covering for vacationing colleagues, trying to squeeze in some vacation time of their own, and/or engaging in some kind of nightmarish DIY home renovation project at the same time.
And that's just on the student side of the equation... On campus, facilities tend to be a mess. (It's bad enough dealing with room changes and locked computer labs if you're teaching evening or weekend classes during the rest of the year. Try finding someone to make copies or bring in your missing LCD projector when the building is only half-staffed to begin with.)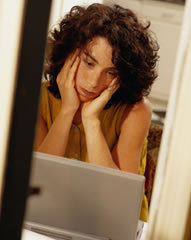 Online, the small portion of the tech-support team that isn't on vacation is generally busy "improving" the system you are trying to use as they prepare for the fall semester. And it's guaranteed that the minute you have a problem, all you'll get is a flurry of "out of the office" automated replies.
I used to think that it was easier to teach online classes during the summer semester than on-campus ones, but that was because I had never before had really serious problems to deal with in a summer online course. After just finishing a semester plagued with technical and logistical problems, I have to say that I think that the bad online experience is much, much worse than a bad on-campus experience.
At least if you're locked out of your on-campus building you have options: You can always find another space somewhere, even in the middle of Manhattan. And you have a whole group of participants to commiserate and grouse with. Heck, if you're feeling creative (or optimistic), you can even change a disaster into an "opportunity" ... or at least a learning experience.
But if you're "locked out" of your online course, you're locked out of communication. And you're locked out alone.
Posted by Joanne Tzanis at
06:54 AM
|
Comments (0)