OFFLINE: John Ashbery & Speculum Musicae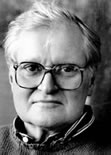 An off-topic post for New Yorkers who need to unplug for an evening....
This may well be the last year for Howard Stokar's always excellent CooperArts series of rarely seen performing and literary arts events at Cooper Union's Great Hall.
The season kicks off next Friday with a celebration of Pulitzer Prize-winning poet John Ashbery. Ashbery will read from his work, and acclaimed ensemble Speculum Musicae will perform musical settings of his work by leading American composers.
When: Friday, October 8, 2004, 7:30 p.m.
Where: The Great Hall (7 East 7th Street at 3rd Avenue).
Price: $20, general admission, $15 students/seniors (at the door only one hour before show).
Tickets: Available via phone at (212) 279-4200 or online here. (Reserve early - the show is likely to sell out.)
Posted by Joanne Tzanis at
02:23 PM
|
Comments (0)