Photo Archives

April 27, 2003
Easter, Part II

. The boys celebrate their first Greek Easter.

April 20, 2003
Easter, Part I. The boys celebrate their first Catholic Easter.

April 10, 2003
Double trouble. Can you tell the twins apart?

March 1, 2003
Andrea's Visit. After spending a week with "Auntie Andrea" the twins said a sad goodbye.

Feb. & March, 2003
The babysitters. Thea Jo & Uncle George never held an infant before, but did OK as babysitters for their nephews.

Feb. 15, 2003
A visit from Mom in the NICU before Loucas's homecoming.

Feb. 11, 2003
First Photos of Loucas. Photos of Loucas in the Newborn ICU.

Feb 8, 2003
Alex's First Day. A look at Alex's first 24 hours at home.

Feb. 7, 2003
Alex Comes Home. Despite a storm that dropped over five inches of snow on the New York Region , baby Alex came home from the hospital on Feb. 7 to check out the place in advance for brother Loucas.

Feb. 1, 2003
Twins Are Born! Loucas Constantine Corcoran Tzanis and Alexander Michael Corcoran Tzanis make their first appearance at 5:46 and 5:47 this morning, respectively.

March 9, 2002
Dean & Jackie's wedding. Photos & details of the big event.
---
"Related" sites
Cousin Zoe Online.
Luke & Alex's cousin Zoe has had her own Web site for over a year.
---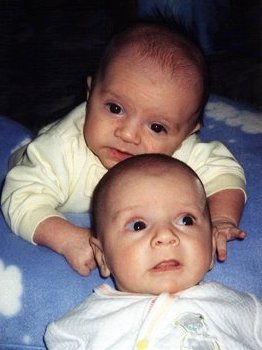 MAD ABOUT
THE BOYS
---------------------------------
Twins Are "Too Cute,"
Sources Report
NEW YORK, April 10 - As Baghdad and Kirkuk fall under the control of alliance troops, the focus on the domestic front has been not on the war, but on New York's newest stars, known locally as "the most adorable boys on the Upper West Side."
Newly released photos appear to confirm earlier reports that twins Loucas & Alex are just "too cute".
The twins, now a little over two months old, had no comment on these allegations ... nor were they able to offer conjecture regarding the health or whereabouts of Saddam Hussein.
---
Are They Or Aren't They?
NEW YORK, April 11 - The question on everyone's mind these days is whether or not twins Loucas & Alex are truly identical. Judge for yourself based on these recent photos in our archives. View pictures >>
Can you tell which is which?