Photo Archives
July 10, 2004
Big Yiayia's 94th!
Big Yiayia's birthday goes swimmingly.
June 2004
Walking Tall
Our boys are walking and talking now!
April 2004
Pajama-O-Rama
Lamb, spanikopita, tiropita... and a visit from the local police
Our Big Fat Greek Easter
Lamb, spanikopita, tiropita... and a visit from the local police
March 13, 2004
Road Trip
The boys visit Yiayia and Pappou.
February 1, 2004
Happy Birthday, Boys!
The boys celebrate at their first birthday party.
January 2004
Winter Fun
The boys celebrate this snowy winter season with family and friends.
December 25, 2003
Merry X-mas!
The boys celebrate the season with family and friends.
November 2003
Exercise Time
The boys show off their daily exercise routine.
October 2003
Boo Who?
Mom and Dad turn the boys into pumpkins for Halloween.
June-July 2003
Lazy, Crazy Days of Summer.
Photos of the boys with family and friends.
July 13, 2003
"Big Yiayia" turns 93.
Photos from the pool party.
June 14, 2003
Baptized!
Godparents Mike and Debbie do the honors for the boys.
---
Past Archives
April 27, 2003.
Easter, Part II.
April 20, 2003.
Easter, Part I.
April 11, 2003.
"Too Cute".
March 1, 2003.
Andrea's Visit.
Feb.- March, 2003.
Babysitters.
Feb. 15, 2003.
Mom Visits the NICU.
Feb. 11, 2003.
First Photos of Loucas.
Feb 8, 2003.
Alex's First Day Home.
Feb. 7, 2003.
Alex Comes Home.
Feb. 1, 2003.
Twins Are Born! .
March 9, 2002.
Dean & Jackie's wedding.
---
Merry X-mas, Boys!
NEW YORK, December 25 - The boys watched the city light up this year as they spent their very first Christmas surrounded by family and friends.
Aunt Andzia and Aunt Antoinette hosted a spectacular dinner at their Upper West Side home, with lots of help from Mom and Cousin Joanne. Uncle Evan, Thea Nia, Yiayia, and Pappou ventured northwards from their Pennsylvania homes to spend the holidays with the boys.
The boys' apartment may not have a chimney, but Santa must have dropped off his packages with the doorman instead, since the twins managed to get a more than few gifts on X-mas morning.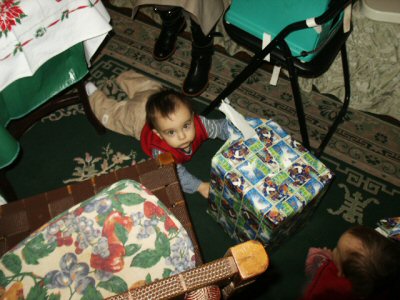 Alex tackles a big one while Loucas looks on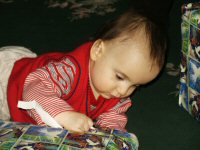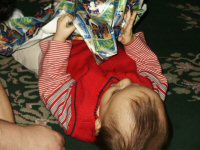 Loucas seems to enjoy the wrapping more than the gift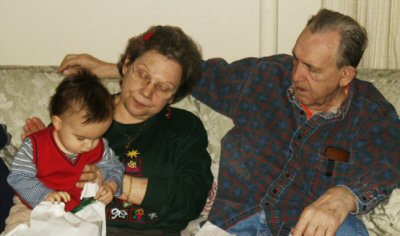 Alex hangs out with his Great Aunt and Uncle.

The boys relax with their Godmother before dinner.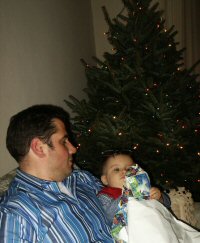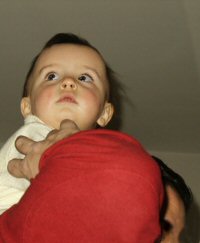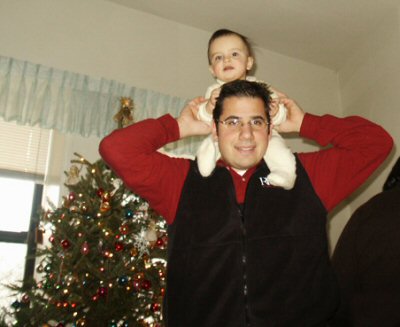 Uncle Evan and Alex horse around.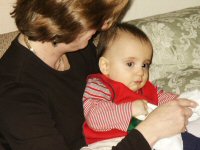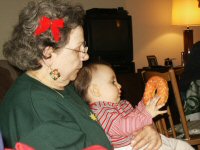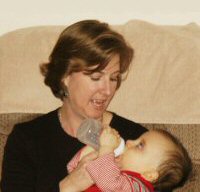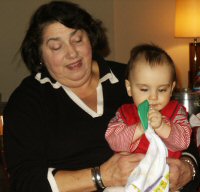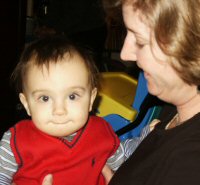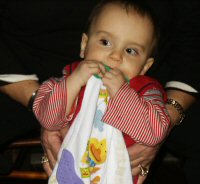 The boys have no trouble finding family and friends to entertain them.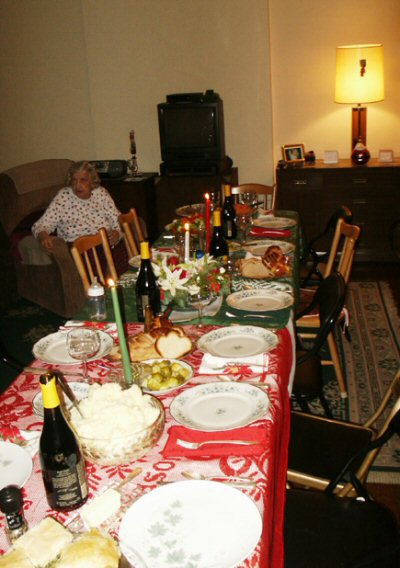 Aunt Andzia surveys the dinner table.